Step 1: Choose your ad size and position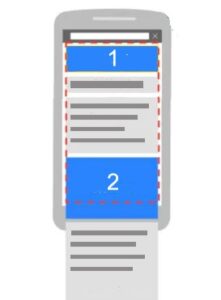 Ad Zone 1
728 x 90 px
Above page content
Ad Zone 2
300 x 250 px
Inside page content
These are two of the top performing ad sizes and positions according to Google.
Ad rotation: Up to 10 ads can occupy the same ad zone and will appear at random when each new page is loaded.
Step 2: Choose your ad campaign language and duration
You can choose to have your ad appear only on French pages, only on English pages or on both e.g. If you select "French only", your ad will appear on French-Moroccan Arabic dictionary entries and on French pages about Moroccan Arabic pronunciation and grammar.
You can choose to pay for a 3 month ad campaign or a 1 year campaign with the possibility to change your ad image once every 3 months (if you would like to try using an alternative ad).
All prices shown are excluding VAT.
Ad zone 1: Most Economic!
728 x 90 px – Above page content
Language
3 months
1 year
English only
200 DH
600 DH
(=50 DH /month)
French only
400 DH
1200 DH
(=100 DH /month)
French & English
500 DH
1500 DH
(=125 DH /month)
Ad zone 2: Makes an impact!
300 x 250 px – Inside page content
Language
3 months
1 year
English only
400 DH
1200 DH
(=100 DH /month)
French only
800 DH
2400 DH
(=200 DH /month)
French & English
1000 DH
3000 DH
(=250 DH /month)
Step 3: Prepare your ad
Your ad will need to meet certain conditions to be accepted for use on our website:
– We will not accept adverts for any illegal activity, pornography or gambling.
– Adverts need to be in jpeg, jpg, png or svg format, in the correct size for the ad zone selected: 728 x 90 px for Ad Zone 1, 300 x 250 px for Ad Zone 2.
– We will check if the ad quality is sufficient to be easily read on laptops, tablets and mobile phone screens.
– We reserve the right to refuse any advert that might damage our site's reputation or have a nagative impact on our visitors' experience.
For more information, please see our Advertising Terms & Conditions.
Need help preparing your ad?
Free help with translation: We can translate your ad text from French to English or from English to French.
Help with ad design: If you have a photo and the text for your ad, we can turn it into a professional looking ad from 200 DH (The price will depend on your ad design specifications).
Step 4: Order your ad campaign
If you have decided on an ad zone and campaign duration, and have prepared your ad, you are ready to start advertising. Click on the button below to fill out your Advertising Insertion Order.
We will check your ad and, if approved, we will send you an invoice. Once we confirm that your payment has arrived, we will display your ad from the date you requested, for the duration chosen.
Step 5: Track your ad's performance
Your ad campaign data will be analysed and you will have access to statistics about the number of impressions (the number of times your ad was seen) and the click-through rate (the number of times the ad was clicked by those who saw it). This will tell you how well your ad is performing and enable you to modify your ad if necessary.
Tajine qui parle visitors
Here are some statistics about visitors to the Tajine qui parle website (average figures from 2022).
Key figures:
Pageviews per month: 190,000
Visitors per day: 1,800
Note: Visitors are not the same as pageviews because some visitors view several pages during a visit.
Location of our visitors:
53% France
15% Morocco (Expats, tourists, etc.)
5% Belgium
5% Canada & United States
7% Other European countries (United Kingdom, Germany, Switzerland, Spain, Netherlands, Italy, etc.)
15% Other countries throughout the world
Note: Some visitors that appear to be located outside of Morocco may actually be in Morocco but using a VPN which masks their true location – this could however indicate which country they are from.
Devices used by our visitors:
90% Mobile phone
9% Desktop computer
1% Tablet
New & Returning visitors:
86% New visitors
14% Returning visitors
Language used by visitors:
66% French
34% English
You still have some questions?
Let us know if you need more information or need help preparing your ad. Click here to contact us.
We're looking forward to helping you grow your business!